Luxury apartment with incredible Eiffel Tower views
Carefully selected for its prime location and unique features, this elegant, well-appointed one bedroom, two bath 57 m2 4th floor (with elevator) apartment ensures long-term investment potential. Historic features were preserved despite a total renovation, adding modern upgrades to create a timeless, beautiful home from which to explore Paris and beyond. The property also offers top-of-the-line concierge and professional management ensuring that your magical vacations in Paris are also a sound investment. Owners enjoy the property to the fullest, while someone else trouble-shoots the day-to-day details.
Professional managers handle calendar management, maintenance and administrative details on behalf of the owners.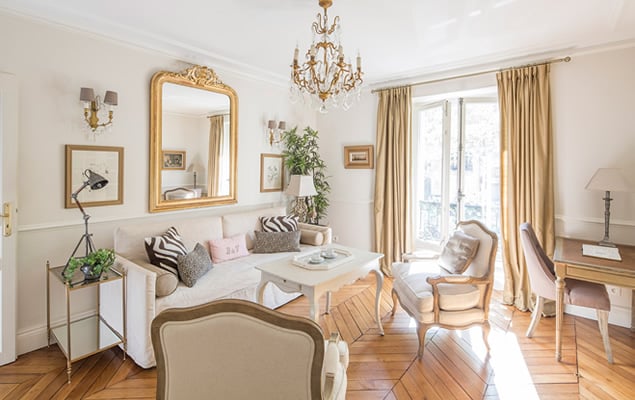 Trouble-free ownership
This fractional ownership project is specifically designed to meet the needs of those who dream of owning a second home in Paris, but simply would not use the property often enough to justify the expense. If you have been discouraged by news of tighter rules on short term vacation rentals, which can leave non-resident property owners with vacant properties and frustrated investment goals, this is the property for you.
Luxury fractional ownership gives those who have always dreamed of owning an apartment in Paris the opportunity to have a charming and wonderfully renovated place in the heart of historic Paris, with perhaps the best view in the world – all for a fraction of the cost and none of the risk. By rotating time in-residence, carrying costs are covered for the entire year.
You'll have four weeks in this beautiful and elegant Paris apartment, with fully deeded ownership that can be sold, or passed on to heirs. The weeks will be chosen each year, two weeks at a time, in a two round draft rotation by owners, so that owners can have a different configuration of weeks each year.
Best of all, owners have the assurance that Paris Perfect stands behind the property and its ongoing management with their twenty years experience serving guests in Paris. As with all their impeccably maintained and remodeled apartments, the Cairanne property includes custom monogrammed linens, laundry, and full-time staff ready and waiting to assist.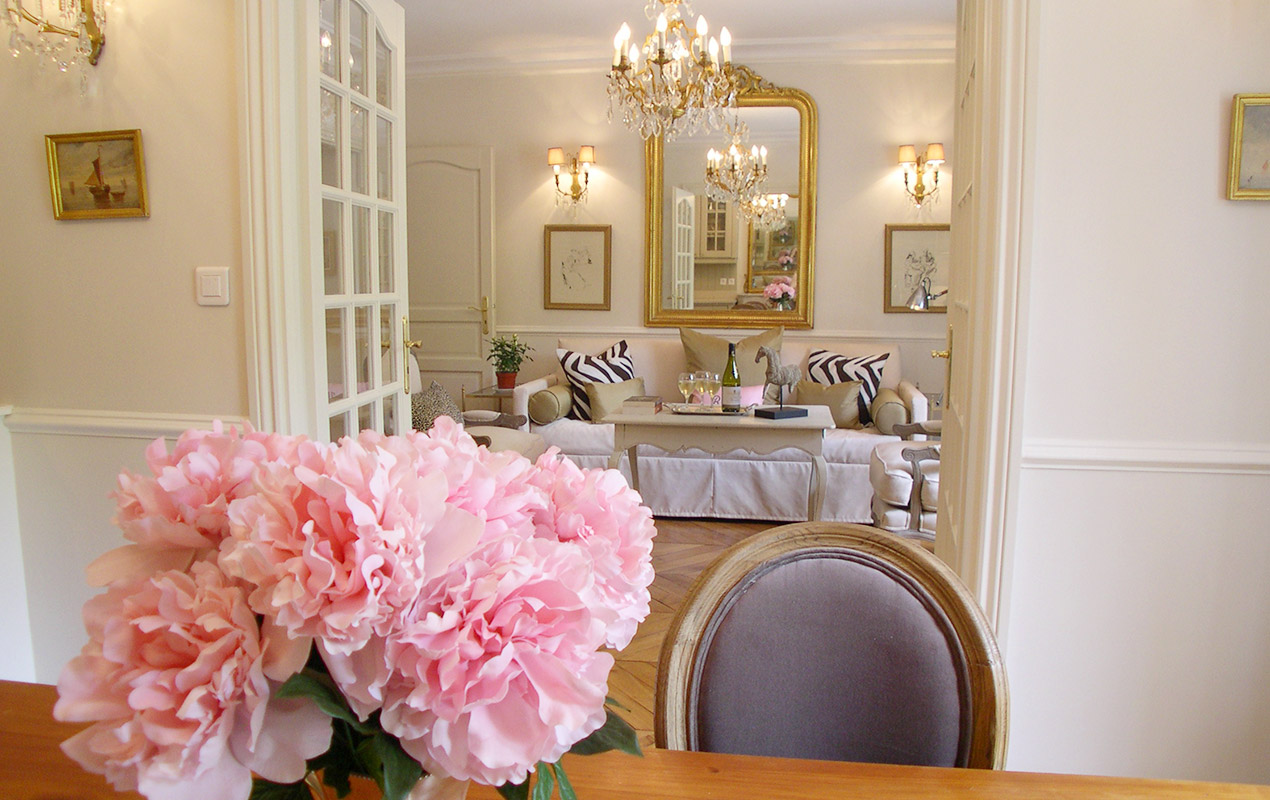 Apartment Details
Your home away from home in Paris. From bookshelves filled with excellent guides to our luxury beds and signature luxury linens waiting for you.
A master bedroom with en-suite bath, plus a comfortable sleeper sofa in the living room, and full hall bath allows for 4 to sleep comfortably at the property.
A decorative fireplace adds charm to the fully equipped kitchen and provides a focal point for the dining area with its crystal chandelier.
The stylish adjacent dining area features a round table place in front of the fireplace, crystal chandelier and views of the Eiffel Tower.
Both the dining and living areas offer double French doors onto a balcony / terrace.
The terrace and all main living areas have massive, unobstructed views of the Eiffel Tower, ensuring a front row seat to magical light displays every evening.
Keep personal effects on-site and travel light with individual owner storage.
850 gsm towels and beautiful soft 350 thread count sheets.
Fully equipped kitchen; additional appliances available on request
High-Speed Wi-Fi
Pillow Top Mattress separates into twin beds or combines to form a queen bed.
Washer and Dryer
Air-conditioning (portable)
In-Room Safe
Ample Storage Space
Iron, Ironing Board, Umbrellas
Cribs available on request
The renowned convenience, services and amenities of Paris Perfect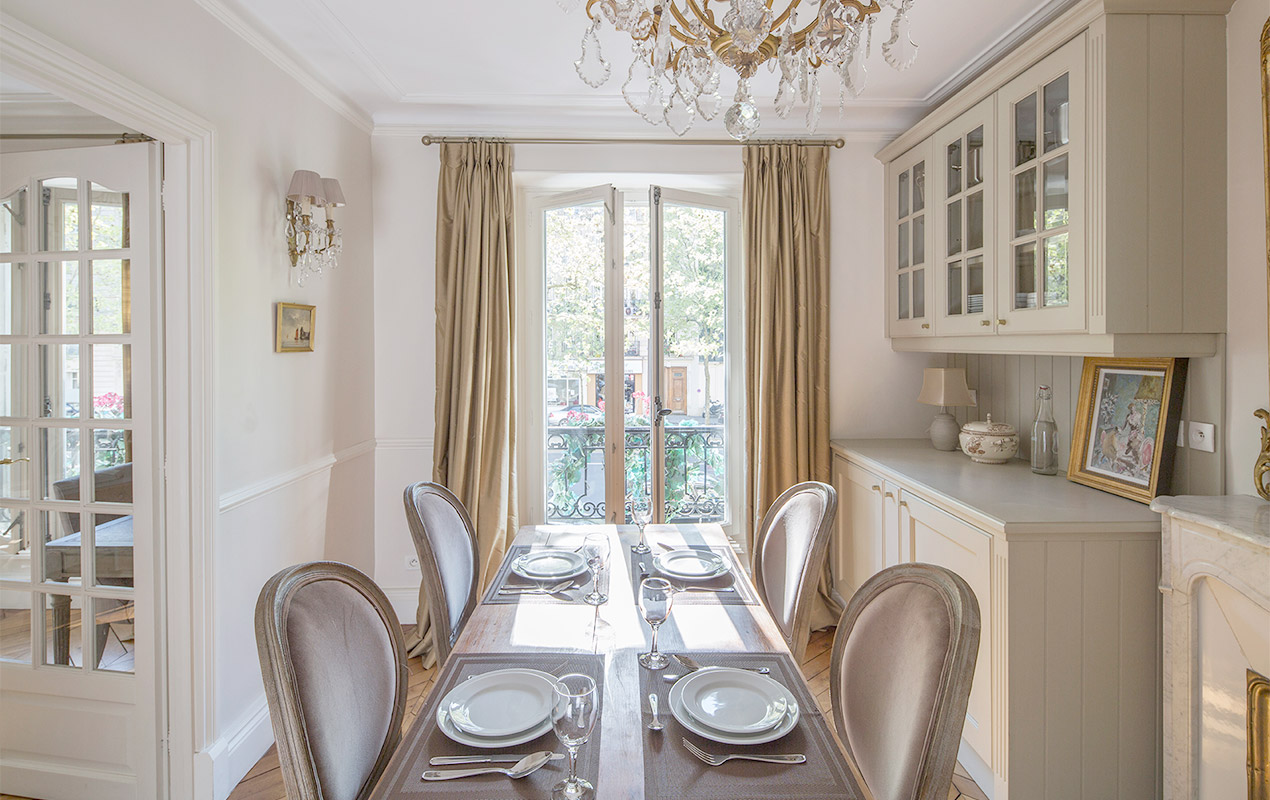 Terms:
Annual maintenance fee of 2,550 € covers building management, insurance, bank charges, accountant, property taxes, utilities, supplies, linens, personal item storage, and property management fees, plus a contribution toward a longer term maintenance fund for regular updates to the apartment as well as minor building assessments. This fee will not vary with the number of owners (ie: you won't pay more if all the shares aren't sold).
2 weeks + 2 weeks: Allocation is based on a rotation draft system so all owners will participate in the most popular weeks. The first round locks in two consecutive weeks and a second round guarantees two more consecutive weeks.
As with other well-run properties, weeks can be exchanged with the other owners, or lent to friends and family.
Storage and 7 day per week assistance in Paris
An unbeatable price: €129,000 (agency fees included)
Changeover housekeeping is included in the annual fee.
Additional housekeeping available as desired by owner: 200 € / visit.
Extra charge to greet friends / family using the property and trouble shooting during their stay: 160 € / visit.
Highlights:
Unquestionably one of the best locations in Paris
Just steps to rue Saint Dominique, rue Cler and rue de Grennelle, Invalides, Eiffel Tower, River Seine, Ecole Militaire, Musee Quai Branly and transportation.
One of the most beautiful interior designed apartments we have seen
Beautifully remodeled and maintained by our Paris team
Eiffel views and balcony
Weeks can be exchanged with the other owners, or lent to friends and family.
Your ownership share will appreciate with the market and can be sold or left to heirs at any time.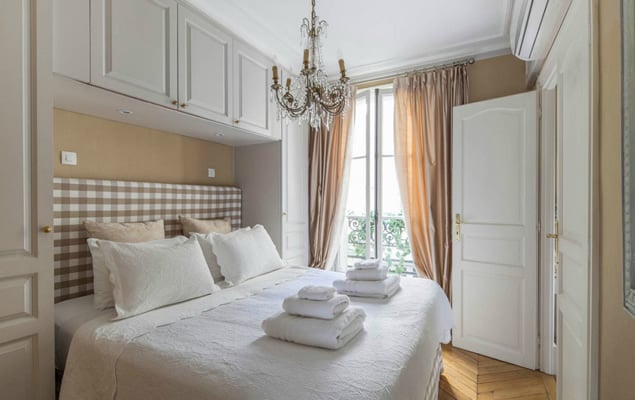 Neighborhood:
Located in the prestigious 7th arrondissement of Paris between the Eiffel Tower, the charming street market rue Cler, and the Seine River, the property is within easy walking distance of many major monuments, as well as charming market streets, cafés, shops and parks – making it the perfect home base for exploring Paris and beyond.
After a day spent exploring, the one bedroom, two-bath property welcomes you home to relax in front of the fireplace or on your own terrace, with its incredible views. French doors to the terrace allow for a choice of indoor or outdoor dining while taking in majestic views of the Eiffel Tower.
The top-notch renovation and interior design creates a timeless look that will provide years of enjoyment. Every need has been taken care of, right down to the silverware, high-end monogrammed linens, and small appliances. High speed internet and electronics keep you connected in your home away from home.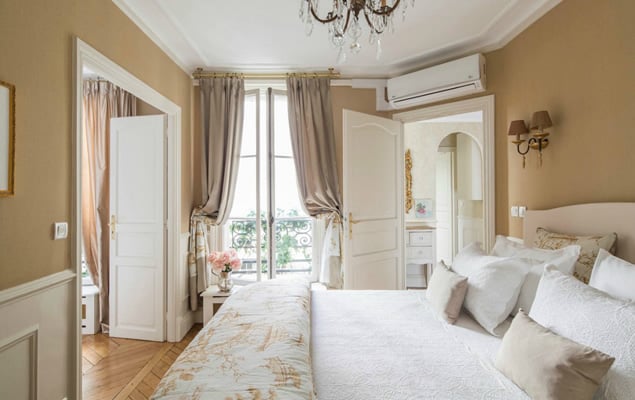 How will I choose my weeks?
This is a great problem to have, and one that has no bad answers. You'll have two blocks of two weeks each. Will you come in the warm weather, when things slow down and you feel like you have parts of Paris all to yourself? Will you come in the cooler months when the social season is in full swing and there are abundant activities to choose from? Here's a look at what is great about every season:
Spring: Paris blooms early, often in February or March, and can be quite warm by May. The gardens and parks are all in bloom; it's a great time to add on an extra leg to your Paris weeks with side trips to other spots in Europe (that's what the French do!). Hitting one of the farmers markets and eating a picnic while sitting on your balcony is a great idea in spring. Explore trendy market streets and the surrounding neighborhoods like rue des Martyrs in the 9th, rue Mouffetard in the 5th, Marché des Enfants Rouge in the 3rd, and Marché d'Aligre in the 12th.
Summer: The banks of the Seine are converted into beaches and pedestrian areas, lined with pop-up venues to eat and drink while watching the river go by. The café scene is alive as the French still in Paris try to soak up all the sun they can. It's a great time to take day trips into the country side to explore. The Loire chateaux, Champagne, and Bordeaux are all within two hours by train.
Fall: After the summer break, the city picks up its pace in the Fall. Join an expat group to make local friends, and get in on the walking tours, cooking classes, wine dinners, and excursions that fill up the fall and winter social calendar. Fall is also a great time to add onto your weeks visiting elsewhere in Europe, before or after your stay in Paris.
Winter: Winters are mild in Paris; often a leather jacket and scarf are enough. With fewer holidays and vacations breaking up the calendar, the expat social scene is in high gear October through April. Christmas is a treat with the city in lights and all the holiday markets in the month or so before. There is ice skating at the Grand Palais and in front of Hotel de Ville. This is the time of year to try all those new restaurants, since there is less competition for reservations. Explore all the covered passages with their holiday lights. Your new local friends are mostly around during this period, so it's a good time to build your network.
FAQ
Q: This is Paris Perfect's first fractional property, can you describe why you decided to go this route and how it is different from how you manage your other properties? A: The reason we decided to go this route is because we have an advantage — a complete operation to manage care of apartments in Paris. We will use the same French operating company as Paris Perfect with maintenance staff, to housekeepers, office and even our own laundry. Managing a fractional is an extension of the same.
Q: How is the annual budget set for the property? Are there any additional costs? A: All of the costs to manage the apartment including building charges, syndic, utilities, taxes, turnover / cleaning, management, supplies, and a 5 to 10-year depreciation cycle for appliances and normal wear and tear, are included in the 2,550 € annual fee paid by each owner. A substantial portion of the annual fee is set aside for a longer-term maintenance fund for the apartment and building.
Q: Will we need a French bank account, or be liable for taxes in France? A: No, taxes will be paid by the US companies, which will own the apartment through a French SCI. Your ownership share can be sold or left to heirs as shares of a US company. These ongoing expenses are already factored into the annual fee detailed above.
Q: If there is any conflict among the owners, how is it to be resolved? If an owner doesn't contribute their share or abide by the agreement, is there a system/process in place to resolve it? A: The apartment is held by a US company and the contract will have a system in place to resolve conflicts or issues. Paris Perfect will manage it, not hand it off to a management company.
Q: If an owner wants to exit, will there be a chance among the other owners to purchase the share first? Is there a defined exit process for an owner who wants to sell their share? A: Yes it will be a defined process. Other shareholders will have the first priority. We expect the share value to appreciate with the market. Our experience is that the shares are very liquid and sell relatively easily for desirable properties.
Q: Will Paris Property will rent out Cairanne when not in use by the owners, and do you have an estimate of that revenue? A: No the apartment will not be rented out when not in use due to current restrictions on short term rentals in Paris, though owners can make whatever arrangements they like with friends, family and other owners.
Q: If we wanted to secure a share, do you need a deposit or the funds upfront? A: We will have a deposit and reservation contract available soon, with the full information package shortly thereafter.
Inquire
Interested in learning more? Contact us here